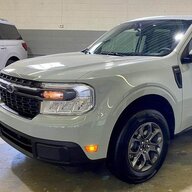 Well-known member
First Name

Hawley
Joined

Jul 16, 2021
Messages
Reaction score

379
Location
Vehicle(s)

Honda Insight, E350, Toyota Sequoia
Trim

XLT
Correct, Our small but scurvy bunch are trying to tweeter bomb Ford into some real info
WOW!!!
Did all you guys complaining, complain to the toilet paper companies when the toilet paper ran out about their supply issues. If not, then logically a product that has infinitely more parts and processes will be affected much more deeply and for a longer period of time.
I understand the sit-com type short attention span, but this is real-life. In manufacturing everything can go right in short run production only to explode in mass-production. How many pieces are mass-produced? To what precision levels are they manufactured to be within the proper specifications? And you are selling it for how much?
On the human level, the lower the price, real or perceived, the greater the demand for said product. If this vehicle was $5000 more the demand would not have been created to this extent and the dis-satisfaction would have ben much lass and civilized. This feeling of entitlement is amazing and is what we have been brought to as a nation politically.
I ordered a Hybrid. I should be picketing FORD, and the dealer that took my order ........but I am not because I understand what it takes to bring a new product such as this to market. I also understand that I ordered a product, NOT THE OPPORTUNITY TO LOOK INTO THEIR DECISIONS FROM THE BOARDROOM ON DOWN because I did not get what I wanted when I wanted it!!!
But if those 10-12 people that can not contain themselves can not handle the pandemic aftermath then by all means, withdraw your order by calling the
Ford company itself
that will show them that you are serious in your position. It will also push others behind you that are willing to wait closer to the front. It won't help me because I ordered a hybrid!!!
It appears to me that they are having some unforeseen issues and want to get them right before pushing this product out of the door. (I bet you would really scream if you got a faulty car) That said they are looking out for the customers best interest...and their own, which they should, Don't you???