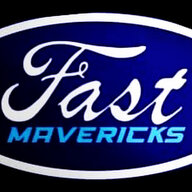 Well-known member
Diamond Sponsor
Been working on this for a while and I'm close to completion.
Parts are as follows:
2016 Focus RS Brembo calipers. I got mine on eBay for $360 for the pair. Yes they are ridiculously inexpensive for Brembos. They were actually more at the dealer because they wanted a $50 core per caliper. They come in blue and raw silver.
Pair of 2016 Focus RS front rotors. They seem to run around $200 for the pair and go up for name brand. Make sure they are 13.7 inch in diameter.
Same goes for the pads. Buy what best suits your needs. Daily, track, ..price will vary. If they don't come with the hardware you'll need to buy them. It's the metal clips and pins.
I had custom brakes lines made for $150 for the pair. Maverick fitting on one end and Brembo banjo fitting on other side. I can supply them if you want. If we get a few people I can get a better price.
Last and most importantly, the adapter brackets. Machine shop said he'd have the prototype done in about a week. It will be the bracket and bolts. Don't know what it's gonna cost but I'll definitely pay more than what the finished product will be. Once I verify that everything fits and drove a few weeks without any issues I'll have however many sets the minimum order is for production.
Keep in mind you will need custom wheels to clear these. They are huge. The Mav and RS have the same bolt pattern so you could look for aftermarket wheels that fit a Focus RS. I looked up my wheels size and back spacing on Americas tires and they say they fit. For sure though you'll need at least an 18 to clear.
At the moment I don't know about the rears because of our electric parking brake. In reality we won't need them so I'll just paint the stock calipers to match.
Herr are some mock up pictures. The rotor fit perfectly, I was afraid the studs would be thicker and need to drill out holes but it's a perfect fit. The calipers are held in with only one bolt in the picture so actual fitment position will be perfect once brackets are done.
Some of you are going to say, "Why? The stock brakes are fine. It's not a race truck. You're making it slower. Yada yada." Yes the stock brakes are fine but if you can't appreciate a Brembo kit for under a grand and how bad ass it looks that's fine. But don't ruin the moment for those of us building some bad ass trucks.
Inspired by Jesse's Jetta, this is the Bluetooth brake option.