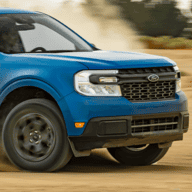 Administrator
Staff member
We just got an undisguised look at a new Maverick variant, and the off-road-focused bumper and orange accents suggests it might be a new Tremor trim for Ford's compact truck.
We've seen hints of a new high-clearance bumper on earlier, heavily-disguised Ford Maverick prototypes, but now we caught it completely undisguised. In addition to the Maverick's new shaved chin, we see some interesting orange accents that Ford is using to denote its more off-road-focused variants.
Orange Theory: Tremor or Timberline?
Two of Ford's rugged, trail-ready trims—the Tremor and Timberline—use orange accents, so which is the most likely to be applied to this Ford Maverick variant? We're leaning toward Maverick Tremor for two reasons: 1) Timberline has been applied to SUVs while the Tremor moniker has been reserved for use on pickup trucks, and 2) The orange accents applied to Timberline models has a darker color that skews more toward red, while the orange on this Maverick prototype looks like a dead-ringer for the more copper-tinged "Active Orange" that is found on the F-150 Tremor.
The orange accents are found on the grille's crossbar, along with orange-painted tow hooks, and a new wheel design with an orange insert on one of the spokes. It would seem that more Tremor badging could carry the orange theme through a bit more, just as it does on the F-150 Tremor.
Lariat Badged…In Orange
It must be noted that this Maverick has an orange Lariat badge on the side vent. This may signal that the Tremor Off-Road Package may be an optional add-on to the Maverick's Lariat trim—just as it is on the Ford Ranger XLT and Lariat trims.
Smoky Lights
This Maverick prototype has front- and rear-lighting that has a darker, smoked tint that appears to be a new option destined for future Mavericks.
Suspension upgrades are a mystery at this point. There is likely more ground clearance, and an improved approach angle thanks to the new front bumper. The prototype is running on Falken Wildpeak A/T tires, just as we have seen on the earlier, camouflaged prototypes.