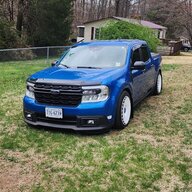 Well-known member
I wanted to Install Some Ford Fog Lamps on the Truck and seem that Ford Escape as the same Bcm conector as the Ford Maverick.
I Checked and Found that Ford Escape , Ford F150 and Ford explorer had similar headlamp switch. I Found one on Ebay that came from a Ford f150 with the factory fog lamp switch on the center dial. Install it and with forscan enable it. Heres some pics of the process. Need to enable on BCM and IPC .
UPDATE F 150 HEADLAMP SWITCH FORD PART NUMBER ML3Z11654BC .
Update hybrid fuel release door f150 part number ML3Z-11654-DB . Not tested but i belive should work.
UPDATE 2 / 3 / 2023
BCM TERMINALS PART NUMBERS WT-1003
link showing how to un pin connectors and install them.
Last edited: