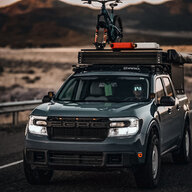 Well-known member
First thing I needed to see at the Expo of course.
Also had the pleasure to meet the man behind these amazing products who helped engineered the new (and definitely the most promising) suspension set up for our Maverick ladies and gents.
@MAC_Detail
was very knowledgeable introducing their high-quality designed prototype PTR Eibach coilover suspension system. I know that the suspension system is still under R&D and wishing you as well as the rest of Eibach World (Team) nothing but great success!
Mike's Maverick showacased the entirety of its beauty. I truly admire it! The stance on his Maverick was on point. I am really honored to have met you you along with Jeren and Vittorio. I'm just glad that I was able to attend this year's event and definitely looking forward to some future ones.
Check out some of the pictures I snapped below and I will be adding more later on. Enjoy!
It was good seeing another fellow Maverick Owner Justin who also participated in last year's Expo.
And what do you guys think about this new Tremor carrying this massive Scout Explore Series camper in the Goose Gear Booth?
Last edited: