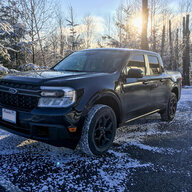 Well-known member
Got my first flat tire and my "full size spare" was a 215/60R17 and 27.2 inches compared to my stock 225/65 pirelli tires at 28.5.

I read through the manual and it seems like the full size spare isn't a 50mph max tire it's a 70mph max.

So my question - on a long road trip if you use the full size spare for say 500 miles but don't go over 70 could you cause any damage?

Now many guys on here have gone to a 245/70 which is a full 2" larger than the full size spare which made me think in their case it might almost be acting like a donut tire and they'd need to go max 50mph to prevent damage?

Im moving to 235/70 tires and am thinking I'll put a 235/65 AT for a spare if a 235/70 won't fit as it would be 29.1" with 30" tires vs the 27.2 current spare.

Just wondering peoples thoughts on the tire size differences for the spare tire and risks.
Last edited: