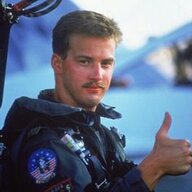 Well-known member
Had a center dash rattle that i couldnt place. symptom: was rattling at around 1500rpm.
Took the cluster out to try to hunt it down.
turns out it was behind the infotainment screen - my finger is sort of pointing in the direction (not the tab im pointing at - but behind the trim piece with the angled pattern - back in the dash in there). i pulled the cluster out to get to it.
what you're looking for is a plastic brace that is attaching the dash to a support bracket. they're both plastic - and one piece has a brass threaded push in adapter. you cant see the face of the bolt (its facing toward the front of the truck) so you can only do it by feel.
this is a hard one to tighten - i just happened to be lucky enough to have a baby 9/32 (i think) wrench that allowed me to get a single finger of torque on it.
rattle solved - sanity achieved.