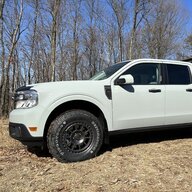 Well-known member
Maverick production ought to get really "interesting" between now and the end of the year. Based on everything I see on this forum, it seems typical for people to be bumped back 4-5 week from the original build date until their truck finally goes into production.

I just got scheduled this week for the week of 11/7, which is SUPPOSED to be the final week of MY22 Maverick production. However, considering that multiple push back are common, what are the odds Ford actually finishes MY22 Maverick production the week of 11/7? Let's just say I wouldn't bet big money on it.

And if they CAN'T get all the VINs they've assigned built by then, how long do they extend My22 production? I mean, at that point there will only be 7 weeks left in the calendar year. Ford can't build MY22 Mavericks in calendar year 2023!

Finally, what does all this mean for MY23 Mavericks? Will Ford again delay opening of order banks? Or will they. just delay the time before they actually start scheduling and building 23s?