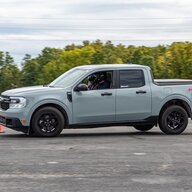 Well-known member
Gold Sponsor
First Name

David
Joined

Sep 17, 2021
Messages
Reaction score

957
Location
Vehicle(s)

2020 F150
Trim

XLT
We have been overwhelmed with the sales for the parts we've released for the truck! Thank you all very much!
After many weeks on the dyno and logging the truck we've found the heat to be the #1 issue with making more power. The catalytic converter temps, the intake temps post intercooler are both major issues to work around.
The intercooler on the truck, no surprise, is a piece of garbage, yes, garbage. It is by far the lightest intercooler I've ever seen. The intercooler is there to remove heat from the intake charge after the air has been compressed by the turbo. A small lightweight intercooler can not do that job. The factory intercooler measures 2.5" thick, 25" long and 5.75" tall, giving it an overall basic volume of 359 cubic inches.
We have replaced that with a core made in the USA, bar and plate core that is 24"x6"x6" with an overall basic volume of 864 cubic inches. The core we are using is rated for 575 horsepower. This will keep the intake temps from climbing the ridiculous amount that they do now, provide much less pressure drop across the core and maintain good intake temps while towing.
There is cutting required of the plastic around the intercooler.
The pictures are of the mocked up tanks, which are going out to be laser cut/bent today. The factory intercooler has a very unique connector on them, no clamps, similar to a wiggins type connections for those familiar with that. It's a great design and our intercooler will utilize those same factory connectors. Those will need to be CNC'd from aluminum and those samples are being dropped off today also. I'm hoping within two weeks we have dyno work, data and the intercoolers ready to ship.
Pricing is hard to guess at this point because of the CNC work that will be required for the inlet/outlets. Right now I'm guessing the entire kit will come in around $750.