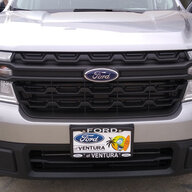 Well-known member
Joined

Aug 5, 2021
Messages
Reaction score

262
Location
Vehicle(s)

Maverick XL Hybrid, Rav4 Prime
Trim

XL
This is for cheapos like me out there: base truck, nothing but a receiver hitch to expedite moving stuff.
There appears to be a significant issue putting racks on these - Ford might have blown in here, surprising since they are the truck guys... The gap between the bedrail and the sidewall is really narrow, to thin for blots I think, maybe for even clamps, and the transition from bedrail to the cab is unusual to say the least, which complicates a rack/tonneau combo. If anyone has pics or specs, please share. I've been communicating with Truck Hero on their Elevate TS Rails 1118329 which look promising, but they are non committal at best as to fit with a Mav or tonneau, won't provide a sample, and would require custom cut fieldwork. Promising rack system but... the side rail lIsting is here:
https://tinyurl.com/s8y6w5x4
, which would be excellent for the price and T rack usability, if actually able to use in combo with a hard tonneau.
My one big priority and splurge was a good hard trifold Extang Exceed tonneau from
https://shop.tonneaucovered.com/
- they are the best bargain out there. Hopefully Extang figures out how to attach it with thin clamps as the tonneau's supposed to be here in October!
So instead of a rack I went with a MaxxHaul Bed Extender, which can be used either horizontally with the bed or vertically with a cab rack:
https://tinyurl.com/yb9fhs42
For $80 with an anti-rattler it'll serve most DIYs and homeowners perfectly well hauling longer pipes and lumber.
For the preset side anchor points, these lifting eye bolts are a bargain:
https://tinyurl.com/8rd7593s
If anyone comes up with the Thule numbers for their rack system, please share as they are likely the best option for a cab rack.
There are plenty of other hitch based options out there - carriers, cranes, etc. This thread isn't intended for contractors per se, as this Ute really isn't intended to compete with Ranger/Frontier/Tacoma, much less F150; it's mostly for lighter duty and weekend warrior work. Please no rants, share nothing but good ideas - these forums and threads seem to get off topic really fast.