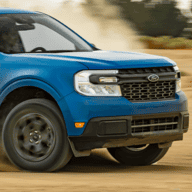 Administrator
Staff member
We just caught another interesting Ford Maverick prototype with cues suggesting that an AWD hybrid variant is in the works. This time it even hints at a PHEV version, judging by what is written on a piece of the test equipment.
This latest Maverick prototype is a bit old-school, as it still has leftover camouflage from the earliest Maverick test vehicles. The prototype has much of its original front-end camouflage still in place, along with the faux bed cap that was designed to give the Maverick the appearance of an enclosed SUV. All that is curious, but what's most eye-opening is what's on the door—a bolted on junction box that may be a mocked-up plug-in battery port.
Cabling comes from underneath the vehicle and leads to the junction box, which has some interesting information written on its outer case. While some of the notations are a little murky (due to resolution and shaky penmanship), there is an entry that appears to read "PHEV" with "2.1L" written immediately below. A beefy input that could be a plug-in battery charger is installed on the junction box near the "PHEV" lettering. The "2.1L" is curious, as it would seem to be an engine displacement designation of 2.1-liters, which doesn't match up to the usual 2.5-liter engine in the Maverick hybrid, or the Ford Escape PHEV, so that clearly raises questions.
There are also notations of "Base Weight", with two numbers scrawled on the box (one of which has been crossed out). The two numbers that refer to the "Base Weight" are "1684" (crossed out). and a new entry of "1790". Those numbers don't make sense in pounds, but they make perfect sense if the designation represents kilograms. Considering that there are 2.2 pounds per kilogram, the two numbers would equal roughly 3,705 pounds in the initial, crossed-out entry, and 3,938 pounds on what appears to be the final written entry. A 3938 pound Maverick would easily be the heaviest number ever associated with the small truck, which would make sense. Here's why:
The Maverick prototype caught here would have additional weight from the supposed PHEV system, which would require more connection hardware, and a larger battery pack to enable full-EV driving, as is available on most PHEV offerings—the Ford Escape PHEV, included. There is also the fact that this prototype is equipped with the Independent Rear Suspension design that currently signals an AWD-equipped Maverick. Pairing a new PHEV set-up with an AWD Maverick would result in the heaviest-possible combination, and it would seem to fall right in line with a 3,939-pound version of Ford's entry-level truck.
The lightest Maverick is the FWD 2.0L EcoBoost, which weighs in at 3563 pounds, followed by the FWD 2.5L Hybrid, which clocks in at 3,674. The heaviest Maverick at launch is the AWD 2.0L EcoBoost model, which weighs 3,731 pounds. Considering that of the two FWD Mavericks, the Hybrid is rated at 111 pounds heavier, that number could be doubled with the addition of another battery pack for a PHEV system, or 222 pounds. Add 222 pounds to the AWD 2.0L EcoBoost Maverick's Base Curb Weight brings you to 3,953 pounds—a bit more than the 3,939 pounds potentially listed on the prototype, but it's all in the range of possibility.
The Maverick, as designed, has space for an expanded battery pack that would be required in a PHEV variant. The Hybrid Maverick requires a higher rear floor to accommodate its current 1.1-kWh batter, but the battery only consumes the passenger side—leaving ample space for more battery capacity without massive repackaging.
In summary, this could be a sign that Ford is testing an early version of an AWD PHEV Maverick, for possible inclusion in its model-mix. It would be an intriguing addition to the Maverick lineup, making an ultra-efficient trucklet even more so, with the potential for some pure EV driving and additional battery assist. All without the penalty and sacrifice required in the current Maverick Hybrid, which is FWD-only.