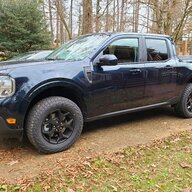 Banned
Banned
My version of what the AWD 2.0 Maverick should look like with 2"FordRangersLift kit.
Falken Wildpeak AT3W
Custom Silver tailgate lettering, FX4 and Ford Oval to match the stock Silver front crossbar.
Gator soft trifold tonneau cover
LED back up lighting
Oil catch can separator
The wife did all the vinyl decal's. I did the 2" FordRangerLifts.
Waiting for a reliable tuner with results and a upgraded intercooler