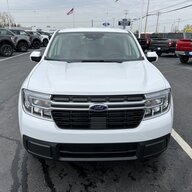 New member
I put in an order for a 2023 lariat lux hybrid with remote start at MSRP. By the time I put in the order and got confirmation I realized that the spray in bedliner was optional and I did not select it.

I am concerned about aftermarket spray in bed liners and I am a little OCD about things being done right and looking clean/stock. I am also not in a rush to get my Maverick, but I don't want to get pushed to 2024.

1. Can I go to the dealer and change my order?
2. Would this be a bad idea?
3. Thoughts on aftermarket solutions?

I would appreciate any feedback!