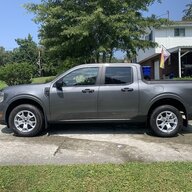 Well-known member
We got a little snow down here in East Tennessee on Monday, which was the same day I had scheduled a test drive for a carbonized gray XL hybrid Mav. I have a 2.0 XL on order in the same color and base model specs, but I still wanted to go check out the color and trim package in person, as I had only driven an AWD XLT previously. It was also a good chance to see how the FWD fared on slick roads and in snow covered parking lots.
Long story short, I attempted to pull into the dealership in my 2022 Nissan Frontier RWD and the back tires immediately spun on the tiniest of inclines.
Had to back out and park in the flat parking lot next door as the Frontier just had zero traction. Of course, I had no weight in the bed, because I didn't think I needed it to climb the tiniest hill ever. Guess that Nissan front end is a little heavier to push up a grade than I would have thought.
Test drove the Mav, and with plenty of weight over the front tires, climbed that mini hill with no issue at all coming back in from my test drive. Didn't even put it in low.
Needless to say, I won't be particularly sad when Carvana comes next week to get that overpriced Frontier.