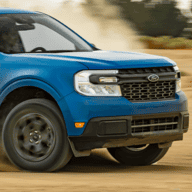 Administrator
Staff member
Another Ford Maverick prototype has appeared with our first look at some new accessories. Affixed to this Cactus Grey Ford Maverick XL is a new black trim package with hood bulge, and window air deflectors.
The Maverick's Build & Price Tool lists Window Air Deflectors, but no images of the accessory is presented—only a standard image emblazoned with MAVERICK. We can now see these deflectors in action on the passenger-side of this prototype. There are some grease pencil sign-offs, OK-ing the design and fit of this accessory for production. It would seem that no image is made available on the Ford site, because the final design for this accessory is just now getting approval. It must be said that the fit and integration looks very clean compared to most aftermarket window deflectors of this nature.
The other accessory package that shows up on this prototype is a blacked-out trim collection, with prominent plastic trim bits affixed to this Maverick's tailgate, near the side sills, and a tacked-on bulge sitting atop the hood. The trim pieces add some contrasty "aggression" to the Maverick's design, even in this XL trim on steelies.
Last edited: