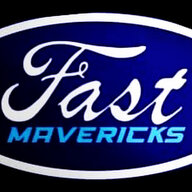 Well-known member
Diamond Sponsor
I was going to write Maverick ST on the title but I don't feel like getting roasted. I don't expect everyone to know how crazy I am but it's just a reminder that some groups aren't for me. So I'll write this pretending that no one knows what I've done.
I sold my 12 second 22 XLT and picked up a 23 Lariat AWD with BAP and 4k tow. Every thing about it is better than the 22 other than the payment.
I literally drove from the dealer to Americas tires and put on a set of black 18x8.5 Konig Dekagram with the same Falken Pro 235/60/18 tires. The next day I tinted the windows.
This time around I had a much better idea on what I wanted to do. The next round of mods was a full set of Lasfit LEDs and Ford rear tailgate spoiler. I also modified my fender badges by opening up the faux vent and putting black wire mesh behind it.
With the engine still stock I managed to run a 14.6 1/4 per Dragy. Wanting to see how fast a stock truck could run, I ordered a Liveronis tuner and managed a 13.9 1/4 with an E30 tune and still stock engine. My next purchase was an AFE intake and before it was delivered I learned that S&B needed a local Maverick to test fit their intake. So we set it up and Ryan from S&B came to my house with the prototype intake.
When he pulled it out of the box it was like looking at Ronnie Colman next to Kate Moss
. I knew that S&B was hands down the best intake so I sold the AFE.
By now I had several parts in the works and more in the pipeline. I started looking for a used 2.0 to use for mock up and stumbled across a few 2020 Corsair 2.3 long blocks for not much more. I found one with 10k miles for $3700 that said "Make Offer" so low balled them at $2500 knowing they'd decline. Boy was I wrong! The accepted and I had a 2.3 on the way for $2700 shipped.
Fast forward a few weeks and I've added Eibach springs, dual catch cans, and the first version of my Intercooler upgrade. I'm also waiting for the first CTR57 Turbo from Comp. As time passed I kept getting more and more anxious. The axles and transfer case are off, as is the driveshaft and exhaust.
The more I looked and tried to resist, I couldn't shake the thought that the engine was a handful of bolts from being ready to pull. So I pulled out a perfect 3000 mile engine out of a 3 month old 2023.
From there it snowballed to where I am today. A 2023 with 5,000 miles on the chasis and 12,000 miles on the engine. As far as I know this is the only 2.3 Maverick around. Current mods are:
2.3 Engine
CTR57 Turbo
3 inch 304 SS downpipe
3 inch Electric Cutout with 3 inch pipe to stock catback. This is the best of both works because it's quiet when I leave home early and loud at the flip of a switch.
FM intercooler upgrade and aluminum hardpipes with Turbosmart blow off valve.
S&B Intake with Velossa Tech Dual intakes.
Has a custom front strut brace which I will be building with 3 mounting points.
Just installed Scale coilovers and a Steeda rear sway bar is on the way.
Interior has an Escape Digital cluster, Gentex 453 homelink mirror and I just replaced the B&O sub with a 10 inch Kicker sub in a custom box I made and Kicker Amp. Also waiting on a heated, leather, flat bottom with grey stitching steering wheel from a Euro Focus.
I'm working on a front brake kit that uses Focus RS Brembos. As an added bonus I'll be installing a Nitrous Express kit and maybe give it a small 35-50 shot, you know "For Science"
My most recent mod and one that triggered the masses is a 2.3 Ecoboost fender emblem.
I may have forgot a few thI gs and will probably always have something in the works. I have a goal with this truck which should be attainable when dialed in.
Lastky I want to thank everyone especially those who have supported the business because ultimately we wouldn't be here without all of you joining the cause. It's because of all of you who joined the group buys and commited to pre orders that I was able to do this. Looking from the outside it's easy to assume that I built my truck with your money. Truth is I've barely made any money if any.
I test everything I sell on my truck before I sell them. How can I offer support if I haven't gone through it? It's like a priest giving marriage advice when he's never been with a woman lol.
Im happy to say that we're nearing the point where parts will start rolling in and in no time Mavericks will be terrorizing the streets. Until then I won't stop because we're just scratching the surface. The aftermarket is catching up and soon all the big fish will have pages of maverick parts and I'll be an afterthought. But I'm perfectly fine with that because i know that our small group of 2000 members led the charge and we will always be 5 steps ahead
Enough of mys story and enjoy pictures of my "ST"
Last edited: