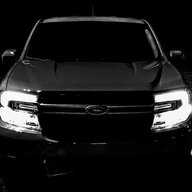 Well-known member
No rattles of any kind, other than the long snow scraper I have riding in the bed. I need to make some sort of mount for it.

Did you reattach the cover yourself, or did you take it to the dealer to take care of? I have not done mine yet, but I believe that single black screw back there is the one I need to use. I'm sure it doesn't matter, but I would like to attach it how it is intended.
Is yours attached on the left side? There is a similar screw and a punch hole in the cover on the left side too. I haven't done anything yet, just taking notes of my observations. I plan to have them all checked when I take it for an early oil change at around 2k miles.
The hood flutter is real. I noticed it right away on my way home from the dealership.
I think I am one of the cursed ones, I see and hear things most people don't. My wife didn't notice any rattles but when I pointed it out, all she had to say was "Ohhh, I hear it now", it didn't bother her at all.
For those of us who got the FX4 package, is sand mode our sport mode?