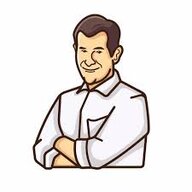 Well-known member
The rotary dial thing... I've had my Mav for 9 months and 9.5K miles and the dial thingie still perplexes me. Mostly, I really like it but the movement from "D" to "R" usually ends up being a move from "D" to "P", a few four-letter words, and then a movement from "P" to "R". Maybe I'm just a slow learner.

The brakes feel different than most other cars I've driven lately. Maybe a touch grabby just before a complete stop, but mostly just different.

The driver's seat headrest seems to be tipped farther forward than in other cars. That's probably a good thing, but it's hard to drain the last few drops from my can of diet soda.

I absolutely LOVE the heated steering wheel, and the blue/brown Lariet interior looks so much better in person than in pictures.
You'll get used to the rotary. I also noticed the headrests. Maybe, they're trying to tell you something about that diet soda.