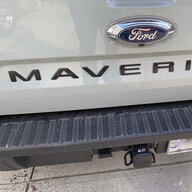 Well-known member
Joined

Nov 5, 2021
Threads
Messages
Reaction score

2,156
Location
Vehicle(s)

2022 Maverick Hybrid
Engine

2.5L Hybrid
On July 23, 2022 I went to the local Ford dealership to complete the purchase of my Maverick, which came exactly as ordered in late 2021. I was able to test drive the truck before deciding to make the purchase, which I did a number of days before buying it. Unlike the horror stories I read online about massive market adjusted prices and dealers selling ordered vehicles out from under customers, I had no issues and they were very patient while I got everything together. Needless to say I was happy to pick up the truck and go home. MSRP&Shipping + requested paint, interior surfaces protection and undercoating + doc fee + taxes and other government fees. Out the door price with the extended warranty was approximately $42k Cdn (starting price of the Lariat in Canada for reference). My yearly insurance rate went down, even after adding replacement cost coverage (not done with dealer). I believe I was rather lucky on the price, since the dealership I bought the truck from was bought out by a national auto chain less than a month later, one well known for pulling out all the stops to rip-off customers.
On to the review of the Maverick itself, since that is what you are here for isn't it?
What I like about the Ford Maverick XLT Hybrid in no particular order
1. The hybrid power-train, is smooth, which makes the truck pleasant to drive. No shift points, just smooth linear acceleration.
2. The fuel economy of the hybrid is excellent, exceeding that of my previous hybrid car
3. Space for the driver and front seat passenger is also excellent, at least for me at 5'10
4. Luxury package items, heated front seats and heated fo leather steering wheel are very much appreciated in the winter months, reducing the need to use the cabin heater. The heated wiper parking position is useful on frosty mornings.
5. The 4.5ft bed of the truck is perfect for my needs 99% of the time. I have no issue loading the truck up with tools and supplies most days.
6. Cap-less fueling is kind of nice to have (hybrid has a locking fuel door as well, Eco Boost version does not)
7. Storage under the back seats is reasonably well sized. The hybrid version does lose space on the passenger side to the 12v battery. Would have been nice if the seat was split though.
8. The hybrid seems to handle rather well for a vehicle of this size, thanks to the low center of gravity thanks to the hybrid battery pack being under the cabin.
9. The flex bed system works as advertised. I have wooden dividers in the bed that I use regularly, and have used the adjustable height of the tailgate position several times. Added a bed cover, and elevate rails and rack system for flexibility. I use the rails for my kayak, some tools, rand such if it's not practical to put them in the bed, a real bonus for storage and easy of use. I use the included Ford adjustable bed rails often and find them very useful.
10. The hard plastic drop in modular bed liner (was included in Lux package at the time of my order). I have put a lot of items in the bed of the truck, tools, building materials, yard waste, top soil, heavy scrap metal and the bed liner has take it all without showing any major signs of wear. Dirt and grime wash off without too much effort in most cases.
Neutral things:
1. The infotainment system is somewhat basic, which is kind of a plus and you do have Apple Carplay and Android Auto available via USB plugs in the front of the vehicle. The empty space beside the 8" screen for the stereo is useless (for me), would rather it not be there. Bluetooth audio is very basic and doesn't sound anywhere near as good as radio stations, a USB storage device or a USB connected phone. Speakers are entry level, which is expected in this class of vehicle, given that it lacks any sound deadening material. The system does sound better when the rear speakers are disabled, which you should do anyway for the sake of any rear seat passengers, given the placement of the rear speakers is right at ear level for an adult or older teenager.
2. The rotatory dial gear selector. A lot of people seem to dislike the dial gear shifter, I did as well at first, but I am used to it and feel completely neutral about it now.
3. A lack of fancy tech stuff in the truck. To be honest I'm rather happy I did not get the co-pilot 360 package with blind spot monitors and lane keep assist. I have not had a vehicle with those features before, so I cannot miss them. To me it just adds more stuff to go wrong as the vehicle ages. The vehicles without the 360 package do come with blind spot mirrors (XLT/Lariat), which I do like.
4. 400W Inverter – You can power a few things with this plug, a 120v light for example, but it's not useful for charging power tool batteries since it does not have pure sine-wave output, so most chargers just shut down after a few minutes, if they run at all. It is not pro-power like the F-150 and other higher end Ford trucks. Seems fine for charging computers, phones and such, but there are already USB charge ports in the truck. Ford has dropped the factory inverter from 2024 Model year Maverick.
5. Build quality, not terrible, but not great. It's mostly little fit and finish things. Where some body panels meet seem just a little off (front bumper and the front side panel meet), it's the same on both sides. I see it every day, and it bugs me a little. The rear tail lights sometimes popping out of the clips that hold them and having to pop them back in that irk me. Seems like a poor design.
Things I dislike:
1. Deep sleep issues (low charge level on the 12v battery). Within a few weeks of owning the Maverick I noticed one thing, the 12v battery gets drained very easily. Never had a vehicle with 12v battery issues before. It's not a hybrid issue, remember I owned a hybrid for many years before owning the Maverick and never had anything like this. I first noticed it because during my lunch break I would always listen to the radio. After a few weeks the Maverick would shut everything off after 5 minutes of listening like that, and I got notices in the Fordpass app, which I stopped using shortly there after since having that turned on can drain the battery. More on Fordpass later. I took the Maverick to the dealer, all they did was load test the 12v battery and told me it was fine, but that deep sleep happens any time the 12v battery falls under 50% charge.
During the winter I put a battery maintainer on the truck once a month to keep the battery at a higher state of charge. When the battery is under 50% charge random things happen, like sometimes the infotainment system will not play audio from any source. Interior lights, if they are on, may not work. The run time of the exterior lights after you close one of the doors is shorter than the set time in the driver settings. If you use Fordpass for remote start, that will be disabled. Thankfully my Maverick has remote start on the keyfob and that always works.
Now that we are into summer I have no had any deep sleep issues, so hopefully it stays that way until winter.
2. Ford Dealerships, maybe it's just my area, but they seem bad. When I bought my truck the dealership was family owned, and had fair prices on service. Ownership changed and that went out the window. Prices jumped significantly. Under the old owner an oil change, inspection and tire rotation was $80 Cdn. Now, $152! In my 20+ years of owning a vehicle I've never had a tech put the incorrect oil in (marked on the service record anyway). First oil change on the Maverick? Wrong oil, and they put it down in writing. I mean all the tech had to do was look at the oil cap. They put in 5W20 oil rather than 0W20. A few months later I call to get recall work done on my Maverick. As soon as the words recall left my mouth I was put on hold, and 5 minutes later I was told everyone was busy, took my number and said they would call back. As you can guess that never happened, and I have better things to do than hunt them down. If they don't want my business I will go elsewhere. I have looked into other local dealers, since there are 4-6 Ford dealerships within an hours drive. Start looking into service prices, they are even worse in some cases! Time to look for other factory approved service providers, other than recalls, if I can get any of the Ford dealers to actually do them.
3. Tail lights lacking proper turn signals. Just irks me that there is no amber turn signal on the back. Before I added Lasfit LED tail lights I had numerous people nearly hit the truck when signaling and slowing for a turn. Once I made that change that stopped, I doubt it was a coincidence.
All in all I like the Maverick itself, even with recalls I haven't had any life disturbing issues with the truck. The big question is, would I buy a Ford again? Honestly, no, I will not. At this point I would rather buy a used Toyota with 100k miles on it like my last two vehicles (both trouble free during 10+ years of ownership) than another Ford, mostly due to dealerships and a few things about American designed vehicles I simply do not care for. I'll keep the Maverick until it doesn't fit my needs anymore most likely.