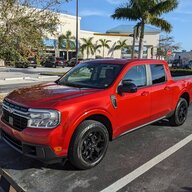 Well-known member
First Name

Connor
Joined

Oct 16, 2021
Threads
Messages
Reaction score

350
Location
Vehicle(s)

2022 Ford Maverick
Trim

Lariat
Yes, I'm joining the bandwagon of 1,000-mile owner's reviews on this forum. But hey, what's one more? Without further ado, let's get started.
I officially hit the 1,000 mile mark last Monday, May 2, 2022.
Build:
2022 Ford Maverick Lariat Ecoboost AWD (Area 51 in color) with the FordCoPilot360 and Lariat Luxury Package.
Pros
Driving Experience:
I figured the most important aspect of any vehicle is how it drives. Let me just say, it does not disappoint. Considering it's based off of the new C2 platform that underpins the Bronco Sport, Escape, and world-market Focus, it does not drive like a truck in the slightest. It drives and handles like a car or crossover. Steering is well weighted with very little-no body roll and is actually tossable around corners. Brake feel is excellent. It requires very little foot pressure to activate and is very responsive. It hails in comparison to my trade-in Toyota Tacoma that still relied on softer, rear drum brakes that weren't as confidence-inspiring.
Functionality:
Since the vehicle is an upright box, visibility is quite good. The side windows are nice and tall and have very little blind-spots. The only one of note is the c-pillar since the speakers are withheld inside them creating for a bulkier pillar. Also, despite having a narrow rear-window, the visibility is just as good as my Tacoma. Looks are very deceiving from the outside appearance. What comes as no surprise is the abundance of storage cubbies. You will have no problem finding a place to put a drink, snacks, groceries, or phones in this cabin. The door panel design has been on the controversial side but considering that I only drink standard bottles of water in the car, it doesn't concern me. I like how the cup-holders have nice grippers so your drink doesn't roll around making turns. Great design touch. Speaking of that, the FITS kit serves its purpose. It's not gimmicky in the slightest. It allows me to have a trash can in the car which is great for convenience. And if I get sick and tired of it, I can always switch it out for extra cup-holders. Either way it's a win-win.
Safety:
This car has a lot of firsts for me regarding safety. This is my first vehicle with Blind-Spot Monitoring, Rear-Cross Traffic Alert w/ Parking Sensors, Automatic Emergency Braking and LED headlights. All of which are put to good use on a daily basis. I feel much more confident when driving on the highway and knowing when to make proper lane changes since the BLS is very active and precise. Also, with working night shifts every so often, having LED headlights is a game-changer. I can see so much better at night with the vivid projection they give and with the help of the LED running lights atop. The other safety features such as Adaptive Cruise with Stop and Go, Forward Collision Warning, Lane-Keep Assist, and a rear-view camera I've had before but are great to continue having. This one isn't necessarily a safety feature but more of a convenience is having auto-hold. I absolutely love it. It works great in stop and go traffic and gives your foot a break (no pun intended) I know it's a feature that's gimmicky and promotes laziness but if it's there, I'll happily put it to good use. After all, that's what it's there for.
Comfort:
Opting for the Lariat Luxury Package was well worth the price. The heated seats and steering wheel work phenomenally (although not needed much here in South Florida
) The faux leather seats are very comfortable with great grip. I never feel achy when getting out of the car after a long-drive. Also, ingress and egress are painless since it's the same height as the Escape or Bronco Sport. No running boards required! Since the seats are faux leather, they are very easy to clean and surprisingly don't get very hot since most of it is that beautiful shade of Desert Brown with the Navy Pier contrast. If it was an all-black interior then it would be a different story. But that's one of the things I love most about it: all the different colors used throughout the interior. It gives it so much character and it's nothing like any other interior on the market, especially within this price range. Last thing to note, the B&O sound system is the s***! The sound quality is very crisp and has a ton of bass with very little speaker rattle. That feature alone was well worth the cost!
Design:
Anyone who is familiar with the Maverick knows this vehicle is a looker. Whether it's from people who know that want to gawk at it or people who don't know and are enamored with it, you're guaranteed to get looks wherever you go. It's not polarizing by any means like the Santa Cruz. Rather, it's simplistic while being unique. It's upright, boxy, and utilitarian. It's made to look and function like a traditional truck but in a smaller package. The honesty in its design is one of the main selling points of this truck other than its affordable pricing. That's reflected in its sales figures and sheer amount of orders. Ford really knocked it out of the park with this truck overall and I hope it continues to sell well for years to come. Considering the inflated market we live in, it is guaranteed to stick around.
Fuel Economy:
Since most of my driving is in the city, I average a little over 24 mpg. That's pretty good considering it's AWD with plenty of abrupt stop and go traffic. It's not too far off from the EPA estimate at 25. Last week, I drove on the highway and reset the fuel economy and was able to achieve over 31 mpg! That's better than my mom's Subaru Crosstrek! Very impressive numbers for a turbo AWD vehicle!
Cons
Interior Plastics:
Yes, this one is guaranteed on any review of the Maverick. It goes without saying the interior plastics are very cheap and easy to scratch. Even if you look at it too hard, it'll find a way to scratch. As a result, I tend to be very cautious when getting in and out or hauling things inside. I make sure nothing rubs against the door panels and use a very soft, dusting cloth when it's time to detail/maintain the interior. It's something nobody should have to worry about but despite how brittle the plastic is, it does have a nice design to it. I just love how all the panels are Navy Pier and not a traditional and boring black. Yet again, that's what gives this vehicle character. It goes really well with the Area 51 paint. Blue on blue works well in my eyes. Something like Cyber Orange or Cactus Grey may clash.
Build Quality:
Yes, I know. It's a cheap truck built on a cheap budget to keep the costs down. I get that. However, spending $35,000 on a vehicle is still a significant amount of money for a lot of households. And at that price point, you still expect a sense of quality. It's not to say it's horrible but there are a fair share of rattles that come and go throughout the interior. One week, it's in the passenger side of the dash, the next week it's in the passenger rear door panel. Once you hear them, you can't unhear them and it will drive you nuts unless you have your music blaring. They do disappear, however, so it's not that big of an issue. What's not forgivable is the driver-side roof molding. I went to wash the truck last week and all of a sudden, the weather stripping came undone. It's fastened by retainers and requires a special prying tool and patience to get it back in. So I went to the dealer this morning to have it re-glued and got it temporarily fixed. However, they were not satisfied with the fitment and decided they're gonna order a whole new rubber molding (not surprisingly is on back-order) I've only had the truck for almost two months and I'm already getting something cosmetic fixed. I feel like this shouldn't have happened so quickly which goes to show the cost-cutting for certain aspects of this vehicle. But just like everything else, it's not that big of a deal and it will get remedied at some point.
So there you have it. On the whole, I am very excited to receive my Maverick after many months of skepticism and tests of patience. Despite its flaws (which are few) it was well worth the wait. It's a cool feeling knowing I'm driving a vehicle that is so uncommon, so unique-looking and has a lot of hype and demand going for it. It is a great conversation starter for someone in the parking lot that wants to take a gander at it. That's one of the many things I enjoy with this vehicle. I plan on keeping this for the long run and hope to get many more fun years out of it. I hope you enjoyed and thank you for tuning in. Future Maverick owners, I hope you get your vehicles soon.
Just for comparison, here it is parked next to a new third-gen Ford Raptor.
Last edited: