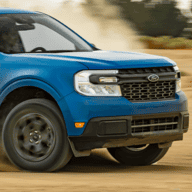 Administrator
Staff member
A mysterious Ford Maverick prototype has reappeared on the streets of Dearborn, showing a new higher-clearance front bumper design and camo-wrapped body work. This latest look gives us some of our best views of its redesigned bumper, and raises more questions with some curious test equipment.
Higher-Clearance Front Bumper Design On Display
The Maverick prototype's new front-bumper suggests more off-road intent, with a new design that looks like it will drastically improve approach angles compared to the rather square-jawed bumper that's found across the board on all Maverick trims. Phony corner caps are installed on the bumper to hide the new design, but the new central skid plate is clearly visible, and looks off-road-ready.
Full-Body Camouflage
This Maverick has everything below the door handles covered in camouflage—a marked changed from earlier Maverick prototypes which left their lower rockers, side sills and bumper details fully uncovered once the Maverick moved into the graphic camo stage. It appears that new trim treatment will extend beyond the trail-friendly front bumper, and bring changes throughout the Maverick's design.
The prototype looks like it starts with an FX4, and appears to build from there. The ride height looks increased, and it rides on more aggressive 23565R17 Falken Wildpeak A/T tires.
Curious Warning
The prototype is wearing a sticker that reads: "Caution: Shift By Wire, Follow Special Instructions To Transport Vehicle." We're not sure exactly how this transmission may differ from the initial Maverick offerings, but it's curious that it should appear on a prototype well after the Maverick has been in the hands of its various test drivers. Why the special warning at this stage?
Curious Cabling and Test Gear
This latest prototype has bundles of cables which appear to start underneath, near the front of the Maverick's cab, and eventually lead to the rear door on the driver's side. The wires go into a large junction box screwed into the door. The rear door handle is taped over with orange, suggesting some kind of warning. Perhaps the door is inoperable due to the connected cables. It must be noted that the door handle is taped with bright orange tape—which usually points to high-voltage warnings on hybrid/EV test vehicles. This prototype shows its independent rear suspension, which shows it's not a Maverick Hybrid—at least in the current state of the Maverick lineup. The current Maverick Hybrid gets a simpler Twist Beam rear suspension design, while this IRS-fitted prototype suggests AWD, and an EcoBoost engine. The unique test gear only raises more questions about what's going on with this prototype.
Tremor? Rattler?
This prototype's front-end design and tire choice suggests off-road leanings, so what name could be on tap? Ford recently unveiled the F-150 Rattler, which is a budget-minded off-road package based off the FX4. This Maverick looks a bit more off-road-focused, and the Maverick is budget-minded, by nature, so maybe the Rattler name will trickle downmarket to the Maverick. There is also the Tremor, or Timberline, as possibilities.
New reports have surfaced on a recent trademark filing, in which Ford has sought trademark protection of the Maverick Tremor name. The Maverick Tremor trademark was filed in Chile, at the National Institute of Industrial Property, so there's no clear-cut US-market tie to the filing, but it's interesting, nonetheless.