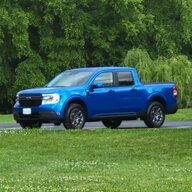 Well-known member
Congrats to all you guys who got a Maverick in April and to those who's Maverick started being built in April!! I'm looking forward to joining your ranks one day (hopefully soon).

Mine is supposed to be started on Monday (5/9).

1) What should I expect?

2) Will the window sticker be generated Friday, over the weekend, Monday, or at the end?

3) When will the "Ford Vehicle Order Tracking" site change me from "Order Confirmed" to "In Production"?

Inquiring minds want to know.
Mine is currently being built.
In production last thurs
window sticker last friday
window sticker update back from spray-in today
expect modules and "built" to update by end of the week.
ship possibly early next week
hope that helps